Have you trademarked your wine label? Registration of your brand name will help you protect the goodwill you have established with your customer. 
Registering your service brand — the name of your winery and the name of your second labels and blends — gives your business several advantages.
It gives you a legal presumption that you do, in fact, own your brand and mark and that you have the exclusive right to use that mark in the jurisdiction you have registered.
It allows you bring a lawsuit in court to protect that mark.
It gives you the basis to register the brand internationally.
And finally, filing a national trademark protects your brand by having US Customs prevent imports of infringing foreign goods.
You don't want your brand to explode, do you?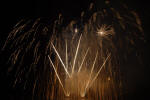 Anecdotes aside — and I can think of plenty of them — I highly advise that you consider filing either in Oregon or federally. If you plan to sell your wine only within Oregon, the state's registry will be sufficient. But if you plan on distributing your wine to other states (or points abroad), you should seriously consider investing in the more costly but more protected federal trademark registration practice.